A Full Power Touch

~ Let Me Introduce Myself…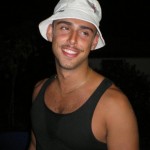 Massage empowers us! It allows us to take a step back from all the emotional, physical and mental trauma where we serve to constantly project our life-force outwardly and alternatively affords us a moment of peace and self-discovery whereby we can put an end to the confusing and unhealthy cycle of eternally REACTING in our lives and start BEING instead.
Spending two and a half years working at an incredibly reputable and edifying studio like Studio Bliss has allowed Joshua to harness the skills, intuition and empathy he has developed in school and numerous workshops and build on them to develop a style that is uniquely his own. Combining elements of Lomi Lomi, myofascial release, californian, thai stretches, cranial osteopathy and other osteopathic techniques, he has cultivated a healing art form that has helped propel his hands, fists and elbows into the knotted muscles and fascia of hundreds of grateful clients.
Joshua Brown is an accredited massage therapist (winner of best massage therapist in 2012), having graduated from Kine-Concept school of Kinetic Swedish Massage in Montreal in June 2009.
Since, he's looked to elevate his practice and thus enrolled in a 6 year program at the CEO, Montreal's most prestigious Osteopathic college where he just successfully completed his 2nd year. Osteopathy has provided him not only with different tools to work with, but an altogether unique and complex philosophy of health in the context of the human body that is simply awe-inspiring.
Now and forever, continuing education is still an integral piece of his mandate of perpetuating his breadth of knowledge of optimized health to as many people as he can. He hails from Mile-End, Montreal, Canada.

Joshua won 1st place in The Mirror's 'best massage therapist' category in their annual 'Best of Montreal' survey in summer of 2011 & 2012